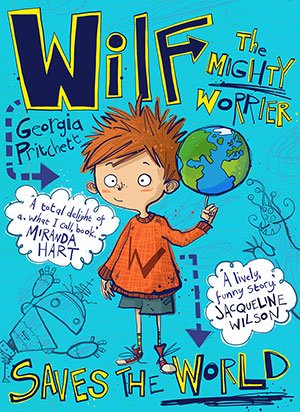 MIPTV: The co-executive producer of HBO's Emmy-winning political comedy Veep is developing an animated show based on her first series of children's books.
To read the original C21 article, click here.
Film and television writer Georgia Pritchett is here in Cannes with Canada's Amaze Film & Television pitching Wilf the Mighty Worrier to broadcasters and distributors.
Pritchett has developed the comedy series alongside Amaze, the book's illustrator Jamie Littler and UK-based Catherine Bailey Ltd, which is making its first moves into animation.
Aimed at 6-9s, the 2D animated series follows an imaginative boy with a lot of small worries, and his attempts to thwart an evil villain called Alan.
"What people have responded to about the books is that Wilf is this unlikely hero in that he is very anxious. But he always overcomes his fears to save the day. It's exciting for children to see that to be a hero you don't have to have rippling muscles and a Lycra suit," Pritchett told C21.
Pritchett has a wide background in TV comedy, having also written for Miranda Hart and Tracy Ullman and shows such as Have I Got News for You, Smack the Pony, Not Going Out and The Thick of It. She is also the creator of the ITV animated topical sketch show 2DTV.So far, over 30,000 copies of the books have been sold, while deals are in place to translate them into five different languages.
"Obviously my swearing muscles get used a lot in Veep, so there's a lot less of that when I'm writing for children," joked Pritchett.
"I love writing very plot-rich things for adults and children. So every episode is pretty eventful. Children are very sophisticated in terms of comedy. They totally get the grammar and rhythm. So I haven't tried to simplify things."
Amaze is the Toronto-based prodco behind hybrid live-action/animated series The Stanley Dynamic (26×30′) and Jason Priestley sitcom Call Me Fitz.